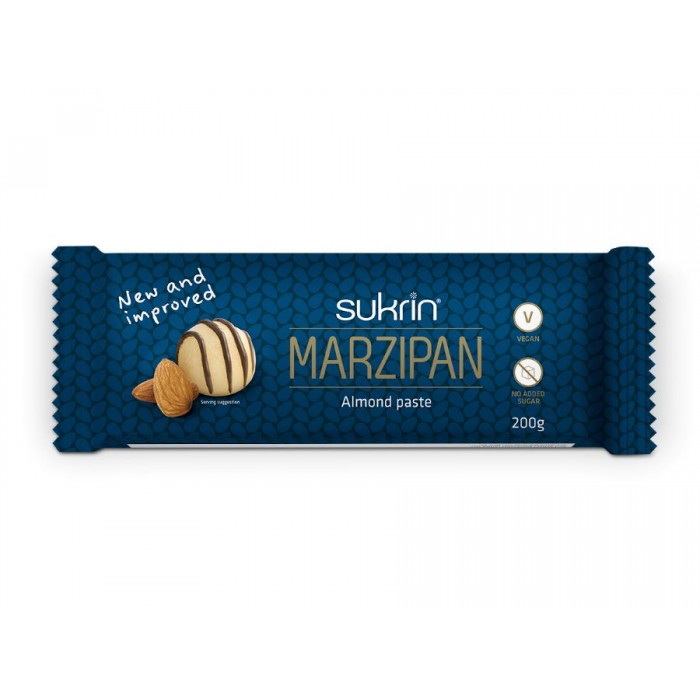 Sugar-free Marzipan Sukrin, 200 g
No added sugar

Sweetened naturally with Sukrin and stevia

86% fewer carbs than in regular marzipan

Vegan
SukrinMarsipan takes the combination of nutritious and delicious to a whole new level. With 29% fibre and just 5% carbohydrates it's great news to health-conscious marzipan lovers everywhere. And because all the empty sugar calories have been taken out, the calorie content is reduced by 30 % compared to equivalent marzipan with sugar.
Weight: 200 g
Ingredients: Almonds (45%), isomaltooligosaccharides, oligofructose (dietary fibre), sweeteners (erythritol, steviol glycosides), water, potassium sorbate (preservative).
Contains natural sugars.

Nutritional value per 100 g:
Energy value: 329 kcal/ 1353 kJ
Fat: 24 g
including saturated: 1.8 g
Carbohydrates: 22 g
including sugar: 3 g
including polyols: 17 g (erythritol*)
Fiber: 29 g
Squirrels: 9,6 g
Salt: 0.02 g
* Erythritol does not increase blood sugar, 0 glycemic index
ATTENTION: if you use a single dose of more than 30 grams can act as a laxative.
Produced by Funksjonell Mat (Norway).