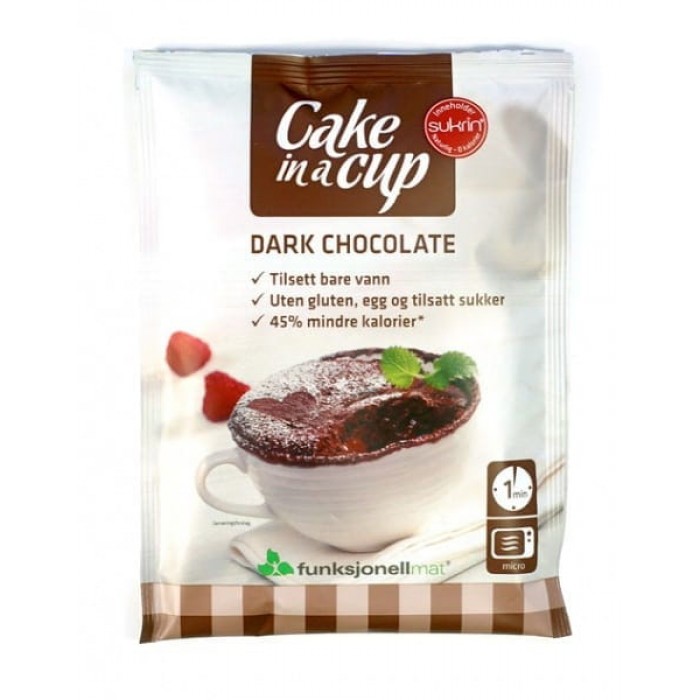 Out Of Stock
Dark Chocolate Cake in a cup Sukrin, 75 g
No added sugar and eggs

Gluten free

45% less calories than in similar mixtures

Easy to cook
Only 201 kcal in the finished cake. Although a cake in a Cup is a dessert, it contains fewer calories and more protein than a slice of rye bread with cheese. This means that the cake in the Cup can be eaten with a clear conscience at any time, anywhere!
Weight: 75 g
Method of preparation:
You will need: a mixture of " Cake in a Cup" and water.
Take a mug, mix the contents of the bag with 50 ml of water, and put the Cup in the microwave for about 1 minute at maximum power.
Ingredients: flour (sesame, corn), sweetener: erythritol (sukrin), fiber (resistant corn starch, chicory), oil powder (coconut fat, glucose, milk protein, stabilizer: triphosphate, anti - sticking substance: dicalcium phosphate), pea protein, cocoa, modified potato starch, baking powder (bicarbonate, diphosphate), salt, emulsifier: mono-and diglycerides, sweetener: Sucralose, coffee, flavoring.
Nutritional value per 100 g of the finished product:
Energy value: 201 kcal/ 841 kJ
Fats: 9.1 g
including saturated: 6.2 g
Carbohydrates: 21.1 g
including sugar: 1 g
including polyols: 9.6 g (erythritol*)
Fiber: 12 g
Squirrels: 12.5 g
Salt: 1.7 g
* Erythritol does not increase blood sugar, 0 glycemic index
ATTENTION: when using a single dose of erythritol more than 30 grams can act as a laxative.
Produced by Funksjonell Mat (Norway).
Notify me when this product is in stock