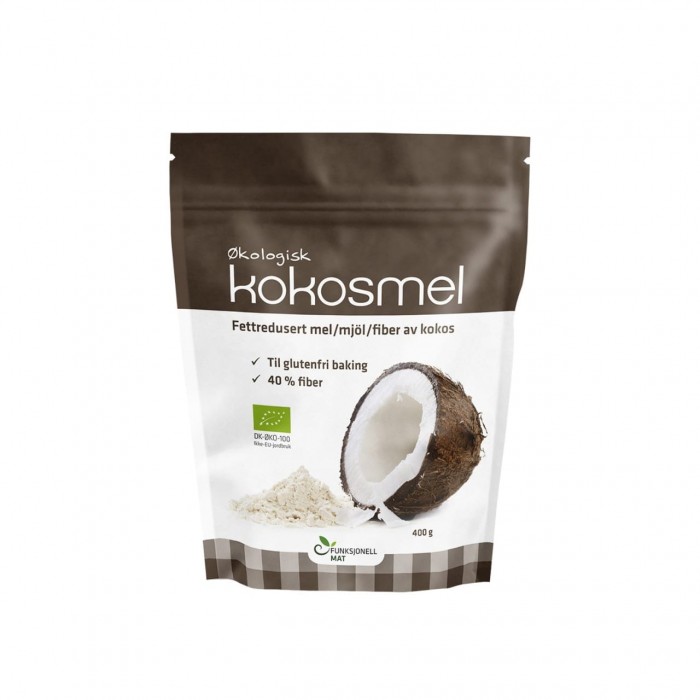 Coconut Flour EСO (Fat Reduced), 400 g
40% fiber

18% carbohydrates

Gluten free
Coconut flour is a unique alternative to wheat flour. It's popular among low-carb enthusiasts and those who have a gluten intolerance. In addition to its impressive nutrition profile, coconut flour may offer several benefits. These include promoting blood sugar stability, better digestion, heart health, and even weight loss.
Produced exclusively from organic coconut with a reduced fat content. Degreasing by the method of cold pressing. In comparison with the usual similar flour, partially skimmed has a number of advantages: it is more finely ground and does not emit a large amount of oil when baking, i.e. it behaves almost like ordinary wheat flour. This gluten-free flour is rich in fiber (40%) and low in carbohydrates.
Weight: 400 g
Ingredients: dried, crushed and partially skimmed organic coconut pulp.
Nutritional value per 100 g:
Energy value: 354 kcal/ 1481 kJ
Fat: 14 g
including saturated: 13 g
Carbohydrates: 18 g
including sugar: 18 g
Fiber: 40 g
Protein: 19 g
Salt: 0 g
Produced by Funksjonell Mat (Norway).