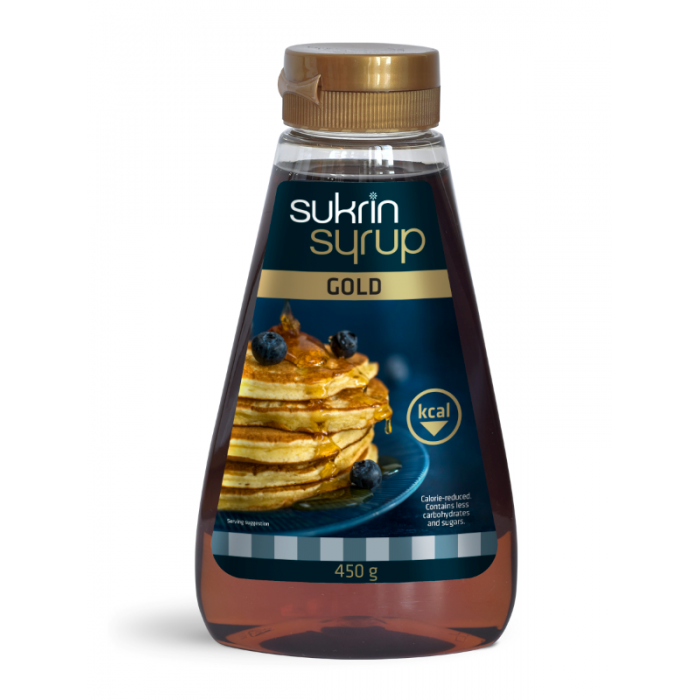 Sukrin Sirup Gold, Sweet Gold Syrup, 450 g
Two times less calories than in honey

Suitable for diabetes

Less than 2 g of natural sugar per 100 g

Source of beneficial fiber
A new improved syrup with a low content of calories and carbohydrates. Gluten-free. It has almost no effect on blood sugar, is harmless to the teeth and is good for the figure. It has only 149 calories per 100 grams.
Add Sukrin Sirup Gold to yoghurts, cottage cheese, porridge, pancakes, ice cream, desserts, berries, etc. Use in baking and cooking, as you would use honey or sweet syrup.
Suitable for making cookies and buns. With it the pastry turns out soft inside, but with a crispy crust. It gives a pleasant sweetness and a perfectly smooth consistency. A source of fiber. Can be mixed with other sweeteners.
Weight: 450 g
Ingredients: Soluble corn fiber, sweeteners (sorbitol, erythritol and steviol glycosides), molasses (molasses), salt.
Nutritional value per 100 g:
Energy value: 149 kcal/ 607 kJ
Fat: 0 g
Carbohydrates: 21 g
including sugar: 1.8 g

including polyols: 14 g

netto carbohydrates: 7 g
Fiber: 49 g
Protein: 0 g
Salt: 0.07 g
Produced by Funksjonell Mat (Norway).