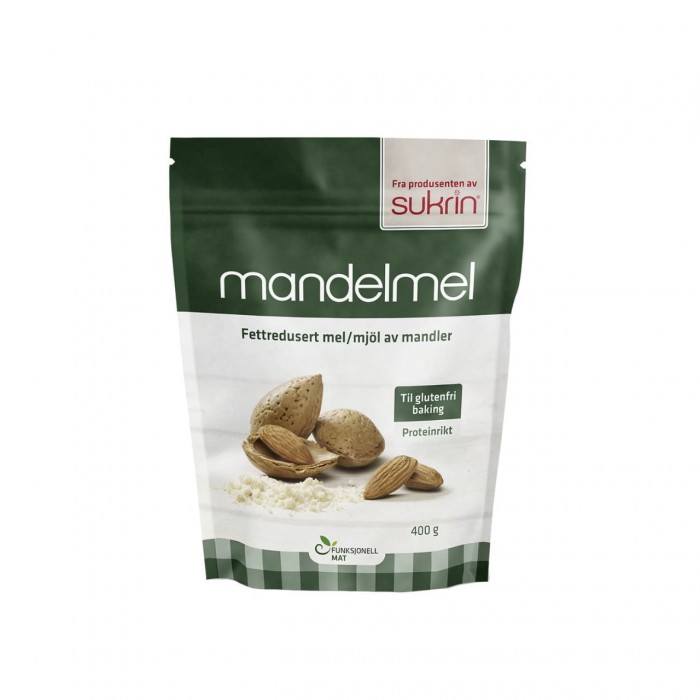 Out Of Stock
Almond Flour (Fat Reduced), 400 g
Naturally gluten-free
Low GI, low carb
High in protein, fibre, vitamins, minerals and antioxidants
Healthy alternative to wheat flour and ground almonds in baking and cooking
Almond flour can be a good alternative for anyone who, for one reason or another, either cannot eat wheat flour or simply prefers not to. Our Fat-reduced almond flour is a finely-ground flour with 80% fat reduction through cold-pressing. Almond flour easily lends itself to many uses, such as baking and cooking, and can be enjoyed by anyone who likes healthy eating. It does not cause spikes in blood sugar levels, making it suitable for anyone looking to keep their diet blood sugar friendly.

Weight: 400 g
Ingredients: Defatted and ground almonds.
Nutritional value per 100 g:
Energy value: 366 kcal/ 1530 kJ
Fat: 10 g
including saturated: 0.8 g
Carbohydrates: 11 g
including sugar: 7.5 g
Fiber: 13 g
Protein: 51 g
Salt: 0 g
Produced by Funksjonell Mat (Norway).