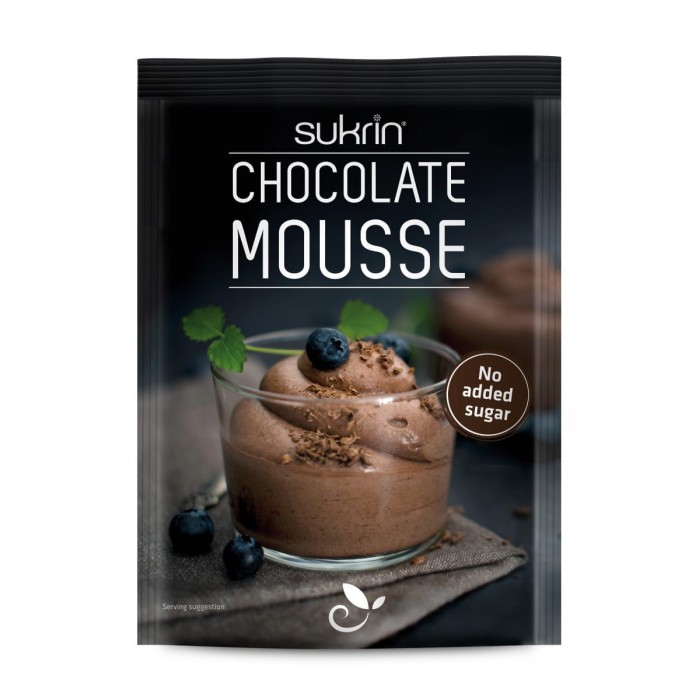 Bestsellers
Chocolate mousse Sukrin, 85 g
Naturally sweetened with Sukrin and stevia

Amazingly light and soft consistency

Only 85 kcal per portion
Sukrin Chocolate mousse is the perfect option when you're looking for a delicious dessert that's good for your health, too. The mousse is naturally sweetened with Sukrin and stevia, so you can enjoy yourself completely guilt-free. A must-have whether you're feeling snacky mid-week or planning a fancy dinner party.

Weight: 85 g
Method of preparation:
You will need: Sukrin chocolate mousse, low-fat milk (you can use nut milk or combine water with cream in a ratio of 1: 1).
Simply mix the Sukrin chocolate mousse and 200 ml of low-fat milk, whisk for 3-5 minutes, then refrigerate for 1 hour before serving. Instead of regular milk, you can take soy, oatmeal or any other to your taste. Dessert will be even tastier if you add nuts or fresh berries.
Use to make a cream cake: mix the mousse and 200 grams of cream.
Prepare the ice cream: mix the mousse and 150 grams of milk, beat for 3 minutes, and then put in the freezer for 4 hours.
Ingredients: Sweeteners (erythritol, steviol glycosides), whipping agent (glucose, coconut oil, emulsifier: lactic acid esters of mono- and diglycerides of fatty acids, milk protein, stabiliser: sodium alginate), inulin (chicory root fibre), fat-reduced cocoa (15%), thickener: acetylated distarch adipate, flavourings, salt.
Nutritional value per 100 g of the finished product:
Energy value: 119 kcal/ 507 kJ
Fats: 6.1 g
including saturated: 4.8 g
Carbohydrates: 19 g
including sugar: 7.8 g
including polyols: 9.3 g (erythritol*)
Fiber: 5.7 g
Proteins: 4.4 g
Salt: 0.30 g
* Erythritol does not increase blood sugar, 0 glycemic index
ATTENTION: when using a single dose of erythritol more than 30 grams can act as a laxative.
Produced by Funksjonell Mat (Norway).