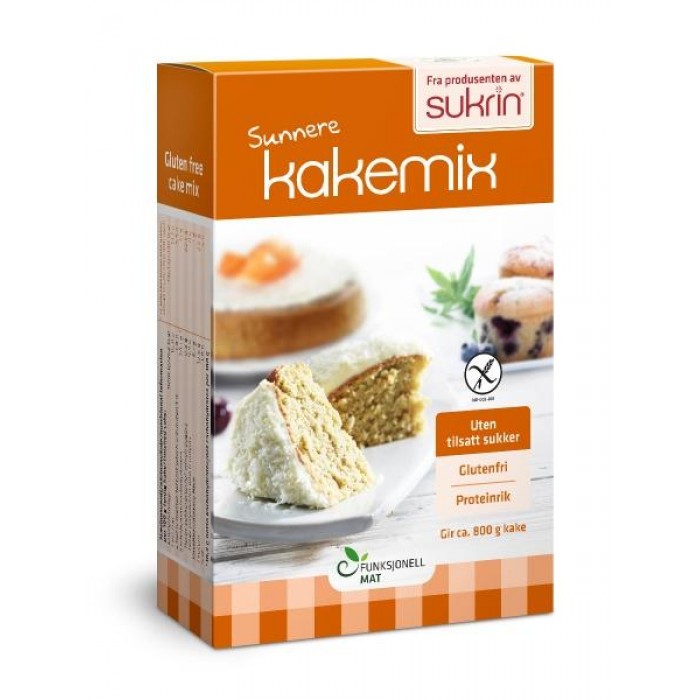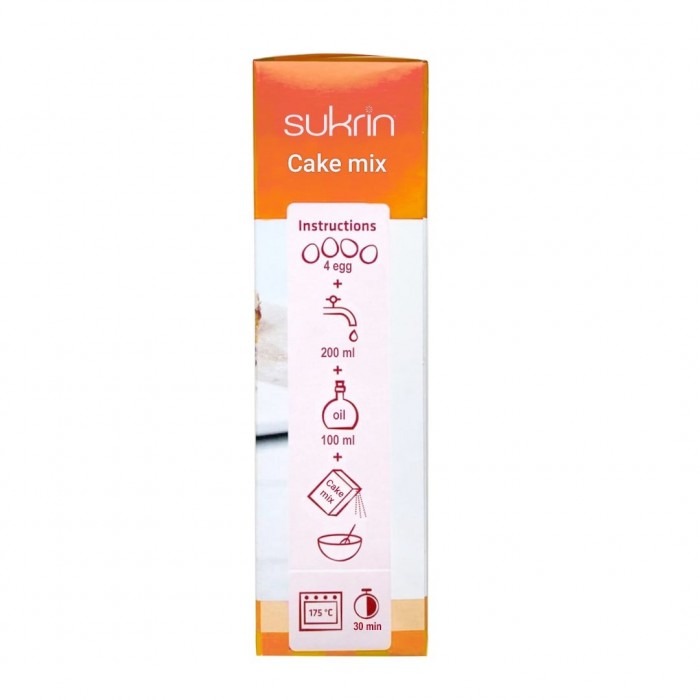 Cake mix Sukrin, 360 g
Sugarfree

Gluten free

Suitable as a base for the cake, and just a pie or cupcakes

Easy to cook
This free-from versatile cake mix helps you make your favourite cakes without sugar or flour. Using our mix as a base, it's simple to make cakes for everyone to enjoy entirely guilt-free. The mix contains almond flour and FiberFin instead of wheat flour, and we've replaced the sugar with Sukrin. The result is a delicious and tasty cake that's big on flavour, but small on the ingredients you want to avoid!
Ingredients: Low-fat sesame flour, sweetener (erythritol), fiber (from resisant corn starch, chicory root, psyllium), starch (corn, potato), pea protein, raising agent (sodium bicarbonate, disodium phosphate), salt, emulsifier (mono- and diglycerides), acidity regulator (citric acid), aroma, sweetener (sucralose).


Weight: 360 g
Instructions:
Preheat the oven to 175 degrees Celsius. Mix 4 large eggs, 200 ml water and 100 ml oil together in a bowl. Add the cake mix and whisk until the batter is smooth. Add your chosen flavouring, or use just as it is, then pour into a greased and lined 9-10 inch (24 cm) round cake tin or in a cupcake pan lined with cupcake papers (10-12 cupcakes). Bake a large pie for about 30 minutes. Bake the cupcakes for about 20 minutes.
Provides approximately 800 g of ready-made pie.
Nutritional value per 100 g of the finished product:

Energy value: 258 kcal/ 1098 kJ
Fat: 18 g
including saturated: 2,5 g
Carbohydrates: 19 g*
including sugar: 0 g
including polyols: 9.5 g (erythritol**)
Fiber: 7,4 g
Protein: 13 g
Salt: 1,6 g
* Net carbohydrates: 9.3 g
** Erythritol does not increase blood sugar, 0 glycemic index
ATTENTION: when using a single dose of erythritol more than 30 grams can act as a laxative.
Produced by Funksjonell Mat (Norway).