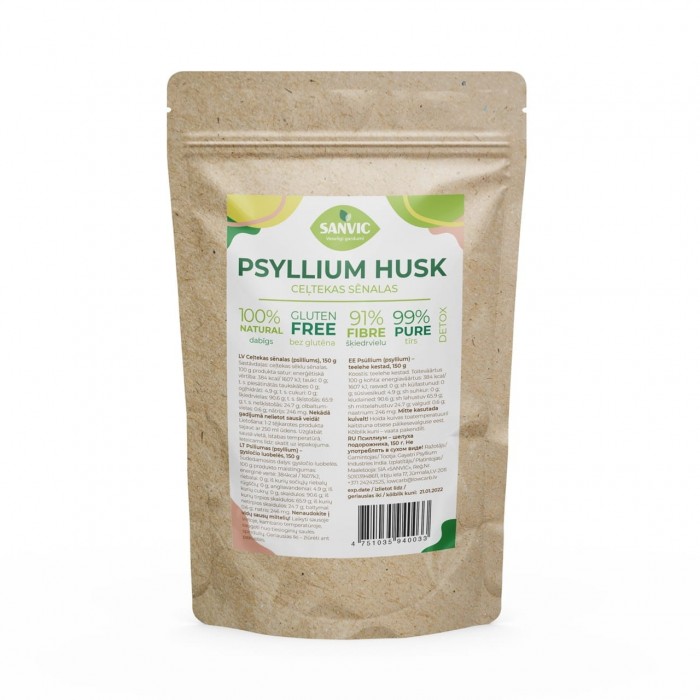 Bestsellers Coming soon
Psyllium Husk, 150 g
Psyllium - bran of plantain flea (plantago psyllium L.)
Whole husk of plantain flea (Plantago Ovata). Psyllium 80-90% consists of cellulose, where 71% is soluble fiber, which serves as an excellent food for the beneficial intestinal microflora. In contrast to the popular oat and wheat bran, which contain more than 62% carbohydrates and only 10-15% fiber, and only 5% soluble. Whole psyllium bran is especially popular as a means of normalizing digestion for stomach disorders, constipation and colitis. To use psyllium for medicinal purposes, dilute one tablespoon of bran in a glass of water, stir and drink quickly, before it has time to turn into jelly. You can take it twice a day in the morning and in the evening. When taking psyllium, you should increase your water intake. Do not use inside in dry form!
Weight: 150 g
Ingredients: psyllium husk.
Nutritional value per 100 g:
Energy value: 384 kcal/ 1607 kJ
Fat: 0 g
Carbohydrates: 4.9 g
including sugar 0 g
Fiber: 90.6 g
including soluble fiber: 65.9 g
including insoluble fiber: 24.7 g
Squirrels: 0.6 g
Sodium: 246 mg
Manufactured by Gayatri Psyllium Industries (India).
Sanvic SIA distributor.
Notify me when this product is in stock