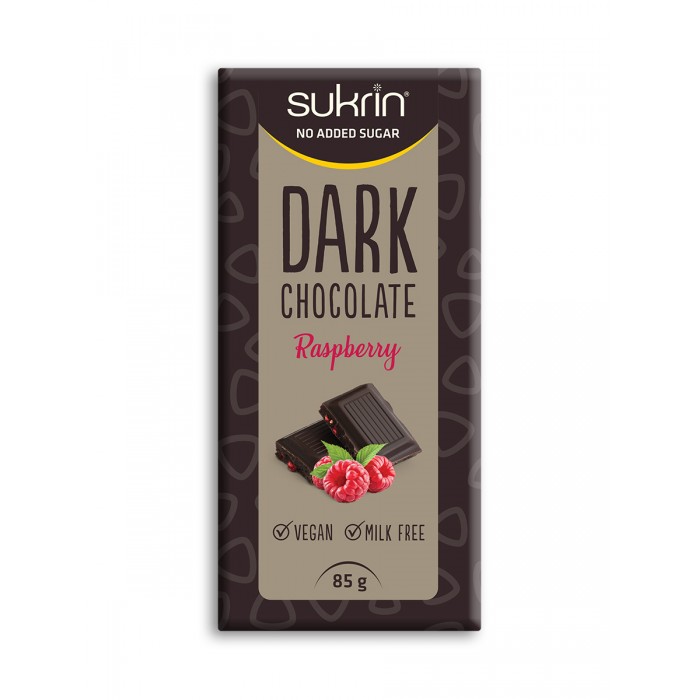 New
Sukrin Dark chocolate Raspberry, 85 g
Naturally sweetened with Sukrin and stevia




Low-carb




Vegan
This chocolate is dairy-free, vegan – and contains just 6 g net carbs per bar. Not only is the consistency deliciously soft – the flavour is a lush, rich blast of cocoa, too.
Sukrin Dark chocolate is sugar-free, meaning it contains considerably fewer calories than sugary dark chocolates do. To top it off, Sukrin Dark chocolate has a naturally high iron content. If you eat a whole bar, you'll actually have your recommended daily intake covered.
Weight: 85 g

Ingredients: Cocoa mass, sweeteners (erythritol and steviol glycosides), inulin, cocoa butter, raspberries: 2.5%, vanilla, emulsifier (sunflower lecithin). Cocoa solids: 65% min.
Nutritional value per 100 g:
Energy value: 445 kcal/ 1836 kJ
Fat: 38 g
including saturated: 23 g



Carbohydrates: 28 g
including sugar: 1.9 g

including polyols: 21 g
Fiber: 22 g
Protein: 8.1 g
Salt: 0.02
Iron: 15 mg

Produced by Funksjonell Mat (Norway).