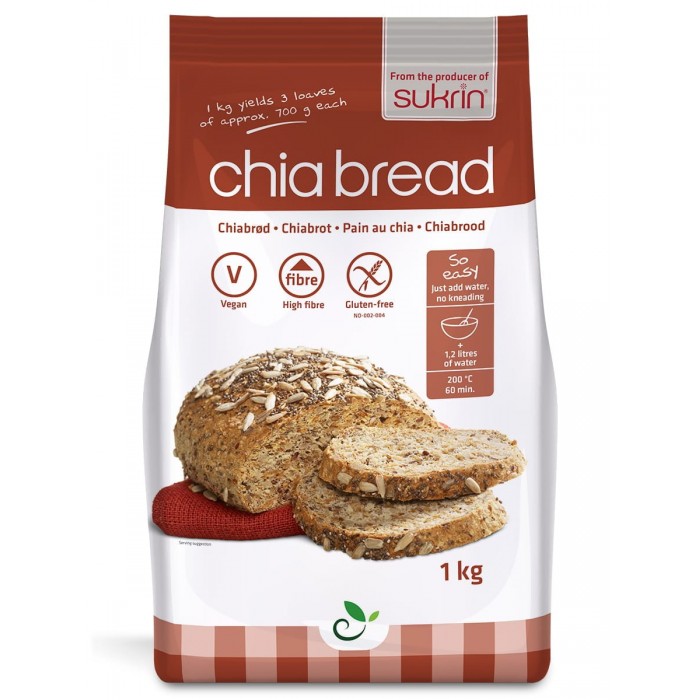 Chia bread mix Sukrin, 1 kg
Free from gluten, egg, milk, yeast and soy
Just add water, no kneading or raising necessary



This bread is full of healthy ingredients and is so nutritionally well-balanced that it can truly be called a super bread. The bread is rich in fibre and easily digested proteins. Additionally, it contains Omega-3 and calcium from Chia seeds. The bread is free from egg, milk, gluten, yeast, sugar and soy. A slice of bread contains only 1.5 g carbohydrates, and tastes so similar to ordinary bread that it's almost too good to be true.

Weight: 1000 g

Instructions:

Preheat your oven to 200 degrees Celsius.

Place the Healthier Chia bread mix in a bowl and add 300 ml of water.

Mix well and leave the mix to rest for about 3-5 minutes to thicken.

Spoon directly onto a baking tray lined with parchment paper, and shape into bread or rolls with damp hands.

Place in the oven and bake for about 60 minutes, until golden. (Rolls: about 25 min)

Allow to cool completely on a rack.

Ingredients: Fibre (from sugar beet, chicory, peas, resistant corn starch), seeds and kernels (sunflower, sesame, flax), pea protein, flavour enhancer: erythritol, 4.8% chia seeds (Salvia hispanica), leavening agent (sodium bicarbonate, disodium phosphate), mineral salt (sodium chloride, potassium chloride).

Nutritional value per 100 g finished bread:

Energy value: 164 kcal/ 682 kJ

Fat: 9 g

including saturated: 0.7 g

Carbohydrates: 3.4 g

including sugar: 0.6 g

Fiber: 18.5 g

Protein: 9.2 g

Salt: 0.4 g

Produced by Funksjonell Mat (Norway).